By Janet Grosshandler
"Nemo," the bright orange 1978 Land Rover my son Jeff purchased for his months in Costa Rica, had broken down again. The rutted, dirt roads here take their toll on cars and trucks, and Nemo was having a very bad week. It was also the time I had just arrived from the States.
This was our first trip out after Nemo came back from Carlos the mechanic's "shop"—a tin-roofed fenced-in overhang in his backyard. Jeff's fluency in "mechanic Spanish" reassured him that it now had new shocks, new tires, and all fluids checked, and was ready to go.

Five minutes along the winding mountain road, Nemo began belching black smoke and the temperature gauge shot to super hot. We pulled over on the tiny shoulder of the dusty two-lane road across from a grocery store. Since it was Sunday, a non-working day for Costa Ricans, several came out from the small store and offered to help.

We were given a ride home and Jeff was left on the side of the road, baking in the hot sun, borrowing someone's cell phone to call Carlos.

An hour later, Jeff found us at the beach and he was in Carlos' old SUV. Carlos, whose wife was at English school for the whole day, had his two-year-old son Leonardo in his care, but loaned Jeff the SUV car to come get us. Carlos then offered drive us around for the day because he wanted us to be happy.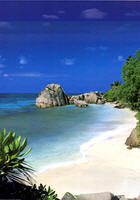 And what a beautiful day! Leonardo was shy and sweet. He wasn't very interested in us, but would glance out the side of his eyes, checking us over. Carlos took us to a Tico section of Conchal beach area, a turquoise, warm bay where we snorkeled and saw many species of tropical fish while he and Leonardo waited patiently at the beach bar/restaurant.
Costa Rican mountains and lush green vegetation surrounded the horseshoe shaped bay. The Tico music wafted from the open dining room, as Sunday was the day to relax and drink beer.

After we emerged from the fabulous snorkeling adventure, I looked around, amazed to see we were the only non-Costa Rican people there. Carlos had taken us to the Bar y Restaurante El Encanto, a local place, giving us a unique, non-tourist experience.

He spoke Spanish to Jeff all day, helping him practice his language skills, while pointing out multitudes of native trees, flowers, and animals. Carlos took us to "off the beaten track" local beaches. We drove the rural dirt roads to and from the beach, pulling over to watch some howler monkeys in the trees. Beautiful birds, armadillos, horses, and cattle lined the roads along the farms. It showed me the "real life" of these friendly, laid back natives of Costa Rica and their lifestyle. Carlos was patient and so helpful in explaining everything to me.


And when Carlos dropped us off at home much later that day, promising he would get the part needed for Nemo mañana, Leonardo waved a shy goodbye.

Costa Rican living has its small challenges, but its people are national treasures who, like Carlos, will stop his day to make yours better.
By Janet Grosshandler
From International Living Postcards
---